Please feel free to introduce yourself and discuss the C-TEP project at the various events/conferences/symposia we shall attend. If you would like to arrange a meeting please contact us.
Past Events
EODAT
23rd – 26th January
The "Utilising Earth Observation to support Blue Growth and Risk Management in the Caribbean" course brought together specialists in Blue Growth, climate change adaptation and risk reduction with experts in the application of Earth Observation Data to address real world Caribbean challenges and identify future supports for Caribbean ambitions.
The 4-day intensive workshop explored the Caribbean's Blue Growth opportunities, and the Risks to any Blue Growth achievements made by island states. During the event attendees identified challenges faced in seizing these opportunities and addressing these risks, exploring and identifying the possibilities for using information extracted from Earth Observation data to meet some of their decision support needs.
Throughout the week, participants identified and refinined a number of systemic actions that island states, international financing institutions, the European Space Agency, and the OECS commission can take to ensure EO-derived information support and services are targeted correctly towards unlocking the Caribbean's sustainable Blue Growth potential, and ensuring these achievements are protected.
The event was hosted by the Organisation of Eastern Caribbean States Commission (OESC) and Future Earth Coasts in collaboration with University College Cork, the University of the West Indies, University of South Florida, ACRI-HE, the Inter-American Development Bank, the World Bank and Terrasigna. The event is being funded by the European Space Agency.
Follow #EOCaribbean2018 on Twitter for all updates!
---
Big Data from Space 2017 (BiDS17)
28th – 30th November
The conference on Big Data from Space, organised by ESA, SatCen, JRC and hosted by CNES, was held in Toulouse France. The objective of the conference was to stimulate and unite researchers, engineers, service providers and end users who all use Big Data from Space. This offered attendees a unique opportunity to network and share ideas with a wide spectrum researchers and experts in a range of space-centric applications.
For a full programme of presentations and exhibits see the official website here.
During the two day event, C-TEP partners presened the latest Big Data innovations. Be sure to check out the C-TEP poster:- "Interconnecting platforms via WPS: Experience from the C-TEP/PEPS connection".
---
Irish Earth Observation Symposium 2017
2nd – 3rd November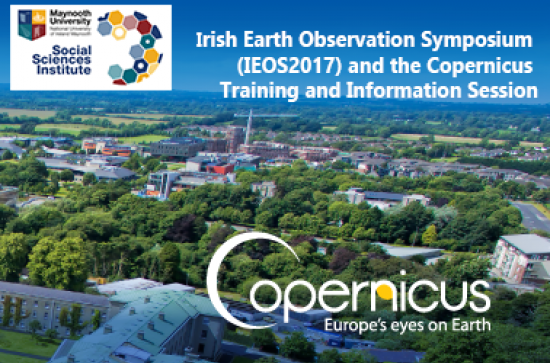 The theme of this year's IEOS meeting was strengthening the linkages between Researchers, Technologists, Service-Providers and End-Users in order to enable more effective exploitation of Copernicus Earth observation (EO) data & information services across Ireland.
Day-1 was dedicated to highlighting and presenting Earth Observation projects from Researchers, Government Agencies and Industry whilst Day-2 was dedicated to EU's Copernicus programme with special emphasis on Land, Marine, Emergency and Climate Change Services within an Irish context. For more information on the event see IEOS2017.
---
EO Open Science 2017
25th – 28th 2017, Frascati, Italy
The conference explored new challenges and opportunities for EO research created by the rapid advances in Information and Communications Technologies (ICT). This included open tools and software, data-intensive science, virtual research environment, citizen science and crowdsourcing, advanced visualization, e-learning and education of the new generation of EO and Data scientists. The conference presented activities in EO Open Science and Innovation and develop a Roadmap for future ESA  exploitation activities under the EO Science for society programme.
C-TEP partners attended the event and hosting a live demo. This is an exciting opportunity for YOU to use the platform with support from our EO experts. If you are interested please contact us at coastal-tep@esa.int.
For the latest updates and programme information please see the dedicated event webpage EO Open Science 2017.
---
FOSS4G
18th – 22th July 2017
On July 20th, C-TEP partners TERRASIGNA presented and demonstrated FOSS4G technology developments used in C-TEP.
The talk presented the technologies used to develop the online platform: high volume of satellite data is processed and analysed using data extraction, times-series analytics and fusion techniques for coastal environmental applications.
To vies the program of events that took place over the event and access further details about FOSS4G, please refer to the event website – FOSS4G 2017 Paris.
---
hg
gh
gh
International Ocean Colour Science Meeting 2017 (IOCS)
15th – 18th May 2017
The third International Ocean Colour Science (IOCS) meeting took place from 15th to 18th May 2017 in Lisbon, Portugal, followed by two training events on 19th May 2017: a Copernicus marine data stream training event and a SeaDAS training event. The primary focus of the IOCS meetings was to serve as a venue for the ocean colour community to communicate their views, ideas, concerns and issues with the satellite agencies. The programme for the IOCS-2017 meeting included invited keynote lectures, agency talks, several breakout workshops, community discussions, NASA, Copernicus & VIIRS town halls, and poster sessions.
Coastal TEP partners, from MaREI Ireland, attended the entire event as well as presenting a poster on the platform.
---
ff
ff
ff
European Geosciences Union General Assembly 2017
23rd – 28th April 2017
The General Assembly 2017 of the European Geosciences Union (EGU) brings together geoscientists from all over the world to one meeting covering all disciplines of the Earth, planetary and space sciences. The EGU aims to provide a forum where scientists, especially early career researchers, can present their work and discuss their ideas with experts in all fields of geoscience. Coastal-TEP presented during the dedicated poster session Monday  24th April. In addition, we performed two live demonstrations of the platforms capabilities at the ESA stand.
The EGU 2017 was held at the Austria Center Vienna (ACV) in Vienna, Austria, from 23–28 April 2017. The assembly is open to the scientists of all nations. All information on the agenda, registration, accommodation and the venue may be found on the event website.
---
Baltic from Space Workshop
29th – 31st March 2017, Helsinki, Finland.
This European Space Agency (ESA) and Baltic Earth organised a workshop focused on highlighting and assessing the potential of satellite remote sensing applications for scientific research in te Baltic Sea region. The main output of the event will be a Workshop Report summarising the main findings and recommendations for dedicated scientific activities, applications development, service innovation and underlying ICT capabilities for a wide spectrum of users (scientific, institutional, private sector, international bodies). This report will support ESA in defining future investments in EO research and development activities to foster EO innovation in the Baltic region and launch a dedicated Baltic initiative in 2017.
C-TEP partners attended the workshop to help identify specific EO needs within the Baltic community which may be addressed by C-TEP services.
More information regarding the event is available on the workshop website.
---
CommOCEAN – 2nd International Marine Science Communication Conference
6th – 7th Dec 2016
Are you a marine scientist that would like to be speed-trained by experts in the skills of modern ocean science communication? Or, trained as a communicator, and hired by a marine institute, a governmental body or a NGO, are you curious about learning the best of blue science? Then the CommOCEAN event is for you. The CommOCEAN conference programme combined hands-on exercises in current science communication skills for disseminating ocean research and technology, with plenty of expertise-sharing, social interaction and fascinating marine science along the way.
C-TEP partners presented the latest news regarding the project during the poster session.
---
C-TEP & FutureEarth Coasts Workshop
3rd Nov 2016, Hosted by MaREI, UCC
We would like to thank all participants who helped make the join workshop a great success. During the course of the day, a number of interesting and engaging discussions took place regarding the use of Earth Observation data to further enhance our coastal and maritime knowledge. In addition, participants from across Europe and the United States provided valuable feedback regarding the development of the C-TEP platform. If you were unable to attend the event, please find the keynote speaker presentations and project presentations below. If you have any queries, please do not hesitate to contact us.
Keynote 1: Cat Downey, ESA/FutureEarth – Linking ESA & Future Earth
Keynote 2: Liana McManus, TWAP – Transboundary Waters Assessment Programme: Data and information for assessing coastal waters
Presentation 1: Sébastien Clerc, ACRI-ST – Coastal Thematic Exploitation Platform
Presentation 2: Diomede Illuzzi, Planetek – Research Avenues: Carabinieri & Mediterranean Pilot Cases
Presentation 3: Martin Le Tissier – FEC: Global Change in the Coastal Zone.
A sincere thank you to all participants and presenters from the C-TEP and FutureEarth Coast teams for making this day a successful and inspirational day for research into EO and coastal issues.
Also a special thank you to the Marine Institute for supporting this event and helping bring international EO science and coastal science together.
---
PORSEC 2016 – Pan Ocean Remote Sensing Conference
8th – 11th Nov 2016
The Pan Ocean Remote Sensing Conference (PORSEC) provides an opportunity for the scientists working on various aspects of ocean and atmosphere using remote sensing technology to come together and discuss their results and innovations.
PORSEC 2016, organized by LABOMAR's Earth Observation Laboratory, held in Fortaleza, Brazil, 04 – 11 November 2016. For a detailed insight into the themes covered during the event, please see the PORSEC site.
C-TEP partners attended the event to discuss some of the exciting innovations in coastal and marine remote sensing.
---
Irish Earth Observation Symposium 2016
27th – 28th Oct 2016
University College Cork hosted the 10th Annual Irish Earth Observation Symposium at the National Maritime College of Ireland (NMCI), which is part of Ireland's Maritime and Energy Campus (IMERC). The Symposium began on Thursday 27th October, with a mix of oral and poster sessions, followed by the conference dinner in Serendipity restaurant in Cork City. The Symposium continued through the morning of Friday 28th October. In addition, to mark the 10th anniversary of IEOS, there were keynote speakers from the EO community and a selection of exciting and highly topical EO workshops shall be held over the course of the two-day event.
The theme of this year's symposium was Irish EO: The Next 10 Years. Researchers and personnel working in the EO field presented their work through oral and/or poster presentations. Presentations included a wide range of marine and terrestrial EO topics.
C-TEP partners presented the project via oral and poster presentation during the two day event. For a complete programme of events please see the IEOS webpage.
Celtic Seas Partnership – 3rd Multi-National Workshop
18th – 19th Oct 2016
The Celtic Seas Partnership is an international project that is part funded by LIFE+, the EU's funding instrument for the environment. The Project aims to draw people together from across the Celtic Seas to set up collaborative and innovative approaches to managing their marine environment. To find out more about the the project and access all project reports see the Celtic Seas Partnership website. 
The third and final Celtic Seas Partnership workshop was held in Croke Park, Dublin, on the 18th and 19th of October. This event showcased the final outputs of the project. In addition, attendees had the opportunity to review and discuss a series of future management scenarios for the Celtic Seas, identify new ways to working together at the Celtic Seas scale and put questions forward to a panel of policy makers and marine spatial experts.
C-TEP partners were in attendance both days with updated material and news regarding the C-TEP progress and success stories.
---
IMDIS2016 – International Conference on Marine Data and Information Systems
11th – 13th October 2016
The IMDIS cycle of conferences has the aim of providing an overview of the existing information systems to serve different users in ocean science. It also shows the progress on the development of efficient: infrastructures for managing large and diverse data sets, standards, interoperable information systems, services and tools for education.
The Conference presents different systems for on-line access to data, meta-data and products, communication standards and adapted technology to ensure platforms interoperability. Sessions focus on infrastructures, technologies and services for different users: environmental authorities, research, schools, universities, etc.
C-TEP partners from MaREI presented the C-TEP concept and project updates.
For more information regarding the event and to gain access to the presentations, please see the official IMDIS website.
---
EO OpenScience 2016
12th – 14th Sep 2016
The EO Open Science 2016 conference, organised by the ESA, was held at ESRIN (Frascati, Italy). The event focused on exploring new challenges and opportunities for EO research, created by the rapid advances in Information and Communications Technologies (ICT). This included topics such as open tools and software, data-intensive science, virtual research environment, citizen science and crowd sourcing, advanced visualisation, e-learning and education of the new generation of EO and Data scientists. The event provides an important platform for international exchange on EO science and for fostering the growth and development of the EO scientific community. In addition, the conference presented precursor activities in EO Open Science and Innovation with the aim to develop a Roadmap in preparation for future ESA scientific exploitation activities.
C-TEP partners from Planetek attended the conference with a presentation entitled "From EO science to service delivery: support for EU and local directives in coastal areas" (See Abstract here). This presentation took place during the "Open and Innovative tools" session on 12th September at 16:45.
Attendance is free (see registration details here). A detailed event programme is available on the EO Open Science site.
---
RSPSoc 2016 Annual Conference
5th – 8th Sep 2016
The RSPSoc 2016 Annual Conference was held in Nottingham, hosted by the University of Nottingham and the British Geological Survey (BGS).
A number of workshops took place on Monday 5th September at both the University and BGS. Workshops focused on innovate new opportunities provided by Sentinel-1 data and the practical use of remote sensing for geoscience.
In addition, the event consisted of full conference days from Tuesday 6th September to Thursday 8th, at the University of Nottingham Jubilee Campus.
C-TEP partners attended the workshops and presented current exciting work in coastal remote sensing during the main conference – Using Earth Observation and cloud infrastructure to enhance knowledge and innovation in coastal research (Abstract available here).  A detailed programme and list of abstracts are available on the RSPSoc 2016 site.
---
Our Ocean Wealth Conference
1st July 2016
The 3rd annual Our Ocean Wealth Conference was held in NUIG Galway, as part of Seafest 2016, on Friday 1st July. Global leaders, marine researchers, maritime industry representatives and government ministers convened to discuss issues and progress in implementing Ireland's Integrated Marine Plan, Harnessing Our Ocean Wealth. Discussions focused on Ireland's innovative growth with three panel sessions dedicated to: A thriving Maritime Economy, Health Ecosystems and Engagement with the Sea. For a detailed programme of speakers, see here. A comprehensive list of Our Ocean Wealth publications are available for download, including the 3rd Progress Report on Implementation of Harnessing Our Ocean Wealth.
C-TEP partners, from MaREI UCC, attended the one day conference. In addition, we disseminated information at the MaREI exhibition stand throughout the day.
---
Seafest 2016 –  Sea change Researchers Workshop
30th June 
Ireland's national maritime festival, Seafest, was held in Galway Harbour from July 2nd to Sunday 3rd July 2016. The festival boasted a wide range of events and demonstrations with the goal of increasing public participation and engagement with the sea.
The festival celebrated Ireland's proud maritime heritage through a number of fun activities such as a Seafood fair, On the water activities and marine themed exhibitions. For a full programme of events held, see Seafest.ie.
In addition, a series of marine related industry and research events took place. A full day conference and networking event, Digital Ocean, launched Seafest activities.  The Marine Industry Awards 2016 was also held Thursday June 30th, to celebrate and recognise growth and sustainability within marine industries.
C-TEP partners, from MaREI UCC, attended maritime activities and research events throughout the course of the festival. In particular, we attended the Sea Change Researchers Workshop in the Marine institute and Digital Ocean.
---
Living Planet Symposium 2016
9-12 May 2016
The 2016 European Space Agency Living Planet Symposium was held in Prague, Czech Republic from 9th to 13th May.
The event focused on how the exploitation of satellite data is applicable and beneficial to a wide range of thematic areas of research: Atmosphere, Oceanography, Cryosphere, Land, Hazards, Climate and Meteorology, Solid Earth/Geodesy, Near-Earth Environment and New Methodologies and Products. In addition, there were daily exhibitions of new technologies and innovations from the industry and research sectors regarding satellite Earth Observation (EO) products and services.
During a dedicated TEP session C-TEP delivered an oral presentation on the project's latest developments and the new exciting opportunities and enhancements C-TEP will bring to coastal Earth Observation.  Please see abstract here.
The symposium offered us a great opportunity to talk to the interested parties from a wide range of EO backgrounds Throughout the event C-TEP partners were also available for questions at a dedicated ESA TEP exhibit stand. In addition, the first demo of the C-TEP platform was released.
---
2016 Conference on big data from space
15-17 March 2016
The conference took place in the Auditorio de Tenerife, Santa Cruz de Tenerife, Spain. The objective of the Big Data from Space conferences was to bring together researchers, engineers and users in the area of Big Data. The conference included oral presentations, demonstrations, poster sessions and exhibition sessions with the aim of allowing industry, open source projects and researchers the opportunity to interact with a variety of conference attendees. The themes addressed in the conference include: Data Lifecycle, Infrastructures and Services for Big Data and Big Data Scenarios. For a comprehensive list of the conference themes please click here.
C-TEP partners attended the conference to give an oral presentation introducing the C-TEP project and outlining how C-TEP will greatly benefit coastal applications by mitigating common EO Big Data problems such as data sourcing, data management and information extraction.
In addition, C-TEP partners from Planetek Italia presented new and innovative developments  in cloud based data and services hubs. For an in-depth insight into the the cloud based hub please find a paper by Illuzzi et al here.
---
Oceans of Knowledge: Realising the Benefits of Ocean Information
11th November 2015
A one day event held at the Royal Institution, London, the event explored the economic, safety and environmental benefits of improved observation of our oceans and seas. The main focus was to discuss ways to improve the use of ocean information across a wide range of applications such as: offshore energy, transport, emergency response, management agencies and utilities. See full programme here.
The event offers the opportunity for scientists, engineers, asset managers and decision makers across various disciplines and sectors to network and contribute to the every evolving world of oceanic observation. C-TEP representatives attended the event in order to engage and exchange information and innovative ideas regarding the exploitation of EO data for the extraction of coastal information.
---
Irish Earth Observation Symposium 2015 
21-22 October 2015
C-TEP partners engaged with Ireland's EO community at the 9th Irish Earth Observation Symposium in NUIG Galway, Ireland.
Members of the C-TEP team engaged with innovators in Ireland's Earth Observation and maritime communities at IEOS 2015, by giving an oral presentation (see abstract here) on the development of the C-TEP project. In addition, a poster presentation introducing C-TEP and outlining the scope of the project also featured as a part of the symposium.
---
Earth Observation Open Science 2.0
12-14 October 2015
The European Space Agency (ESA) hosted the Earth Observation Open Science 2.0 community consultation in ESRIN (Frascati, Italy) to illustrate the scientific benefits of Earth Observation (EO) data. Key opportunities and challenges for EO research were explored. For a full list of the themes discussed please see eoscience.org. Topics included open tools and software, data-intensive science, virtual research environment, citizen science and crowd sourcing, advanced visualization, e-learning and education of the new generation of Data scientists.
As part of the programme, an introduction to all of the ESA TEPs was delivered(see full programme here). Or watch the EO Open Science 2.0 replays here.
---
Copernicus – Big data benefiting environment and society
1-2 October 2015
The annual Copernicus conference in Bucharest, co-organized by the Romanian Space Agency, the European Space Agency, the European Commission and EURISY, was dedicated to Eastern European potential EO users and service providers.  The event demonstrates the excellent progress made by the Copernicus programme towards improving environmental and security concerns through providing reliable data.
As part of the programme C-TEP partners gave a presentation introducing the project, the tools and services that it shall provide and the many benefits which it will offer to the scientific community. For a full programme of events please see the event website.
The conclusions of the fourth edition of the East-European Copernicus conference, 1-2 October, Bucharest are available here.
---
Seafest & Our Ocean Wealth Conference
10-11 July 2015
As part of this year's Seafest, the 2nd Annual Our Ocean Wealth Conference took place in Ringaskiddy, Co. Cork on Friday 10 July 2015. With over 500 participants this proved a highly beneficial platform to showcase the C-TEP project through a poster presentation and face to face interactions with a wide range of marine researchers and maritime industry innovators.
For a full programme and published reports at the conference see:http://www.ouroceanwealth.ie/seafest-conference
.